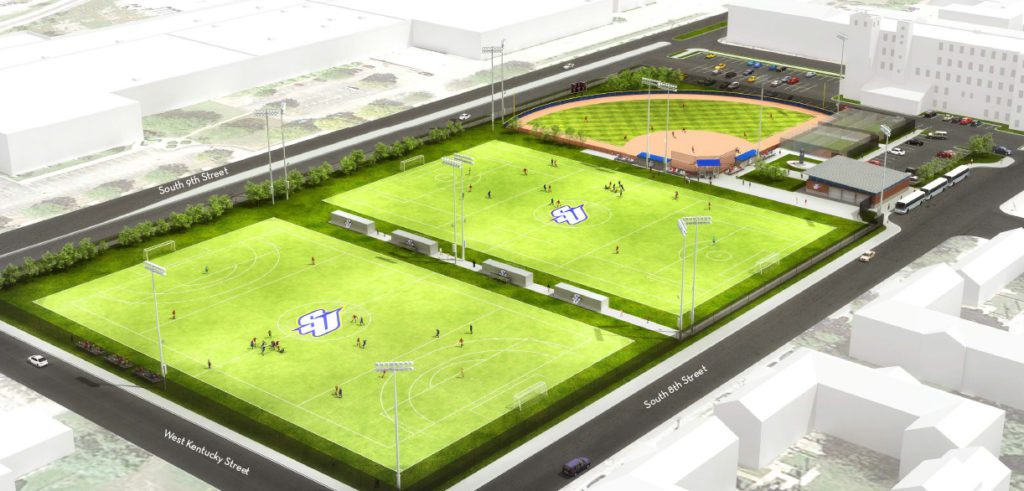 Spalding is working to build the fields of its dreams, and the Golden Eagles are looking for the support of Louisville's leaders.
Louisville Metro Council representatives Rick Blackwell and Angela Leet, who are Spalding trustees, hosted fellow council members and trustees, as well as other government officials, on Thursday, March 15, for a progress update on the proposed Spalding athletic fields complex between South Eighth and South Ninth streets, about four blocks west of campus.
Spalding President Tori Murden McClure, Chief Advancement Officer Bert Griffin, Athletic Director Roger Burkman and architect Sabak, Wilson and Lingo gave presentations on the scope of the project, which will transform an abandoned 7.4-acre tract of asphalt into two soccer fields and one softball field for the NCAA Division III Golden Eagles.
Spalding, which announced the fields proposal in 2015 and wrapped up site preparation work last month, is making a fundraising push to get the project complete.
"From the Spalding side, obviously the project is very exciting and is more growth for Spalding," Blackwell said. "From the city perspective, it's really an opportunity as well. You're taking something that was really an eye sore and turning it into something that's a real treasure. We're grateful for Spalding being able to do that, and hopefully we can have some city involvement as well to make it happen."
University officials aren't seeking public funding for the fields, but they sought Thursday to win the support of leaders to spread the word about the benefits of the project, which would create a large urban green space in the South of Broadway (SoBro) area and provide community access to high-quality sports facilities.
"When you have investment like this that happens in the community, other people are willing to start making investments," Leet said. "As soon as you pick up something that looks like a blighted site and improve it and make it look like what it can be, others buy in and believe in that thought. They join the enthusiasm. And I believe this is the beginning of what will be."
STORY CONTINUES BELOW VIDEO PLAYER

A true home field
The Spalding athletic fields project is seen as a game-changer, literally, for the school's student-athletes.
The complex will provide on-campus home fields for the first time to the men's and women's soccer and softball teams. Lacrosse and field hockey programs could be started.
The soccer teams currently play at Champions Trace a few miles from campus and work their games and practices around the schedule of Collegiate High School, which is the primary tenant.
The softball team has moved home fields multiple times over the years and currently plays at Holy Cross High in Shively, about a 20-minute drive from Spalding. Again, the high school holds scheduling priority, so Spalding must work around it, sometimes leading to late-evening practices.
"It's just going to help the overall student-athlete experience of the players on our team," men's soccer coach Adam Boyer said. "It will bring them closer to the university as a whole, to have their own facility they can call home."
Spalding's teams would be the primary tenants of the new fields, but the university plans to invite other school and club teams to rent them. The lighted, synthetic-turf fields would allow for year-round use. A fieldhouse with changing rooms and a concession stand is also planned.
"It's an area (of downtown) that really kind of needs it," Blackwell said, "and it's really going to spur a lot of opportunities as well. Think about if you have not only Spalding activities but other activities during the summer. If you have two soccer fields, you have the opportunity to do some tournaments and have a lot of folks down here participating. That'll spur opportunities for people to add amenities, restaurants and all kinds of other investments with it. That's what we're hoping for from the city side."
Though Spalding was making its case to members of the Metro Council, the university is not asking for public money to help fund the project. McClure said the point of Thursday's gathering was to provide information and encourage government leaders to express support for the project in their communities.
Spalding is hopeful that the city will eventually assist in safety and beautification work to the public spaces around the site, such as improving the sidewalks and street-lighting in the area.
McClure said that once Spalding raises all the money it needs, the fields could be completed in 3-4 months.
"Because we are a private university, it's been a little more challenging to find those dollars," said Leet, who chairs the Spalding board's advancement committee. "So we've really had to work hard to find those community partners who believe in what we're trying to accomplish here, who believe in the idea of improving the neighborhood.
"The beautiful thing of it is we have more than 20 trustees who have been on board for several years now with what we're trying to accomplish, and they've been working hard to utilize their contacts and influence in their areas of expertise to try to make this happen. And I think that's what we're seeing here today."
Greening initiative continues
The Spalding athletic fields complex is the latest – and largest – project in university's greening initiative, which also included the creation of Mother Catherine Spalding Square in the center of campus in 2014 and the repurposing last fall of an abandoned asphalt lot into Trager Park at the corner of South Second and West Kentucky. (More than 100 trees are set to be planted this spring at Trager Park, a substantial addition to a neighborhood that has only a 9 percent tree canopy – below the 15 percent recommended for central business districts by American Forests.)
Like with those other greening projects, the fields complex would remove acres of impervious surfaces in SoBro and decrease the amount of stormwater that enters the city's sewer system.
As an incentive, the Metro Sewer District has already approved about $250,000 in stipends to Spalding to complete the work, according to Sabak, Wilson and Lingo.
"There are some huge (greening) improvements that Spalding has already done. Those are really investments in the community," said Blackwell, the president of DeSales High School who earned his master's degree in religious studies from Spalding in 1995 and is now pursuing his doctorate of education in leadership at the school. "It makes us more believable when we talk about the (Spalding athletic fields) being a community investment because you've seen what Spalding has already invested in the community. This, too, will be not only for our athletes but for the community. It's huge."