Explore the Naslund-Mann Graduate School of Writing
The Naslund-Mann Graduate School of Writing offers a vibrant graduate learning experience that lets you dive deep into your writing within a dedicated, caring community of students and faculty. You'll develop friendships and professional contacts that you'll keep forever. And you'll write — a lot — in a natural home environment that helps you develop the discipline and focus it takes to sustain a lifetime of writing. Watch this short video to listen to our alums tell their Spalding MFA stories — what they were looking for in a program, and what they found at Spalding. We think you'll be able to see yourself here.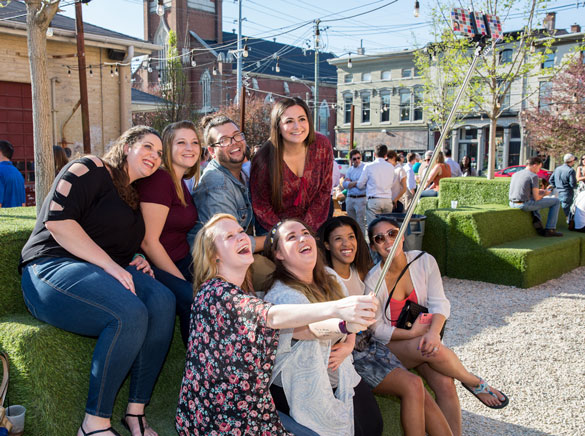 Your Voice
"People would say, 'You're a really good writer. You should do something about it.'" – Jami Powell, creative nonfiction
Your Way
"Spalding gave me the tools to tell my story." – Katerina Stoykova, Second Skin
Your People
"All of us are looking for champions of our work. Spalding is the place for that." – J. Gabriel Gates, Girl of Hearts
During independent study, you'll correspond one-on-one with a faculty mentor who is dedicated to helping you deepen and strengthen your writing. In the Naslund-Mann Graduate School of Writing, you'll write more and receive more in-depth feedback than in many other programs. Students in the MAW program complete a chapbook. MFA students finish their degree with a completed creative thesis.
Our dedicated, caring professors devote themselves to students' growth as writers. Faculty members include New York Times bestsellers, former state Poets Laureate, Newbery Honorees, and film festival winners. You've seen their work in The New Yorker, The Atlantic, The New York Times; maybe you've attended one of their plays. They are passionate teachers who respect students' writing styles and goals. Our faculty-written blog offers their thoughts on craft and the writing life.
For Spalding alums, graduation is just the beginning. They go on to publish with top New York houses and independent presses, write films that receive nationwide release, and win national honors. You'll find Spalding MFA alumni teaching in university creative-writing classrooms, running community theatres, leading writing workshops for underserved populations, and doing much more. Long after graduation, our alums keep coming back to Spalding for inspiration and a warm welcome home.